St Clare of Assisi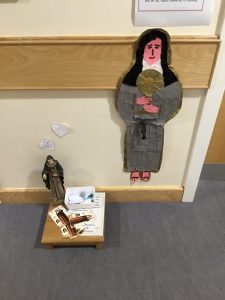 St. Clare was born in a little town called Assisi, in Italy.  She was a beautiful girl who lived at the time of St. Francis of Assisi.
Before she was born, when her mother was praying one day for the baby that was soon to be born, she heard a voice saying "Woman, do not worry, you shall have a daughter and by her life, she will bring God's light to the world."
Clare had so much pity for the poor, that quite often she would secretly give her food to them and go hungry herself.
She spent time praying faithfully to Jesus everyday.  If she did anything wrong when she was with her friends she would immediately do penance so that Jesus would be happy with her again.
When Clare was eighteen, she heard St. Francis preach.  Her heart burned with a great desire to imitate him.  She also wanted to live a poor, humble life for Jesus.
So one evening, she ran away from home and went to the church where St. Francis and his Friars (disciples) lived.  In a little chapel outside Assisi, she gave herself to God.
St. Francis cut off her beautiful hair and offered her a rough brown habit (long dress that nuns normally wear) and left her in the abbey to stay with the Benedictine nuns.
Her friends hated this work she was doing for God and her parents tried in every way to make her return home, but Clare would not. Soon her fifteen-year-old sister Agnes also joined her.  Other young women wanted to be brides of Jesus, too. Before long there was a small religious community.
Under the guidance of St. Francis, Clare started an order of nuns called the "Poor Clares."  St. Clare and her nuns wore no shoes.  They never ate meat.  They lived in a poor house and kept silent most of the time.  Yet they were very happy because they felt that Jesus was close to them.
Once an army of cruel soldiers came to attack Assisi.  They planned to raid the convent first.  Although very sick, St. Clare asked to be carried to the window.  She had the Blessed Sacrament placed right where the soldiers could see it.
Then she knelt and begged God to save the nuns. "O Lord, protect these sisters whom I cannot protect now," she prayed. And a voice within her seemed to say: "I will keep them always in my care."  Suddenly, a great fear came over the attackers and they ran away as fast as they could.
St. Clare was sick for twenty-nine years before she died on August 11, 1253.  But she was always joyful because she was serving the Lord.
Some people worried that the nuns were suffering because they were so poor. "They say that we are too poor, but how can a heart which holds the infinite God be poor?"
St Francis of Assisi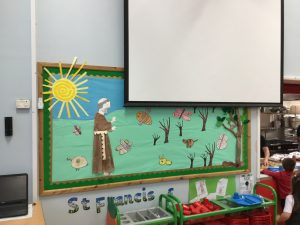 St. Francis was born around 1181 in Assisi, in Italy. As a young man he loved parties and good times. He was handsome and rich, so he bought himself the finest clothes and spent money freely.
Francis had no wish to study or to learn his father's business, as he was having too much fun. One day he refused to give alms to a poor beggar but as the man was leaving, he felt sorry for what he had done and ran after him with some money.
After he fell ill twice, Francis realized that he was wasting precious time. He realized that he should be serving Jesus and began praying more and making sacrifices to grow strong in spirit.
While riding his horse one day he saw a leper and quickly turned his horse to ride away. Then he thought to himself, if Jesus saw a leper he would not turn the other way. So he kissed the horrible-looking leper, and gave him money.
Often he gave his clothes and money to the poor. He served the sick in hospitals. Still he felt he must do more. He fasted and began to go around in rags to humble himself.
It is not hard to imagine how his rich friends must have looked at him now! His father was so angry that he beat him and locked him up at home. Francis bore all this suffering for love of Jesus.
When his father took everything from him in disgust, Francis put all his trust in his Father in heaven. He said that he was married to "Lady Poverty" and he began to live as a beggar.
He had no shelter. His food was what kind people gave him. Everywhere he went, he begged people to stop sinning and return to God. Many men began to see how close to God this poor man really was, and they became his followers. Francis followed the example of Jesus closely by living a life of simplicity and teaching the Gospel message with great joy.
That is how the great Franciscan order of priests and brothers began. They helped the poor and sick and preached everywhere. Even after the order had spread all over Italy, Francis insisted that they should not own anything. He wanted his priests to love poverty as he did.
St. Francis had the power of working miracles. He loved all creatures and the birds and animals happily obeyed his commands!
As a reward for his great love, Jesus gave him his own wounds. Two in his hands, two in his feet and one in his side but the humble Francis tried to hide them from people.
Toward the end of his life, he became very sick. He was told he would live only a few more weeks and he exclaimed, "Welcome, Sister Death!" He asked to be laid on the ground and covered with an old habit.
He advised his brothers to love God, to love being poor, and to obey the Gospel. "I have done my part," he said. "May Jesus teach you to do yours." Francis died on October 3, 1226.
[/sa_tab]
[/sa_tabs]