Our Teacher is Mr List and Mrs Manders is our Teaching Assistant.
Yr5 and 6 comparing New York to London
Our current topic in Year 5 is called Come Fly With Me. This half term we will be making comparisons between the human and physical geography of New York and London and we will also be looking at the history of these fantastic cities.
Our English learning this topic will be based around extracts from the Sherlock Holmes mysteries as the children build up their knowledge of the history of Victorian London and learn about one of our capital's great literary characters.
The children began their learning by making comparisons between the famous monuments of New York City and London. They produced a piece of artwork looking to demonstrate a contrast between the darker tones of London and the lights of New York City.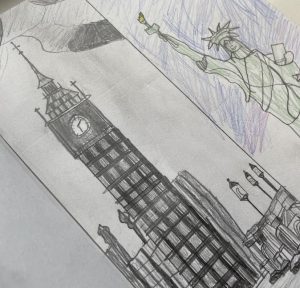 Events in Year 5
Year 5 launched the school's Journey with Matthew where each week a different class in the school will look closely at piece of scripture from Matthew's Gospel. We studied the baptism of Jesus and produced some wonderful artwork influenced by the scripture.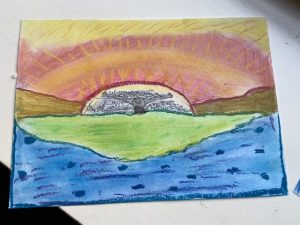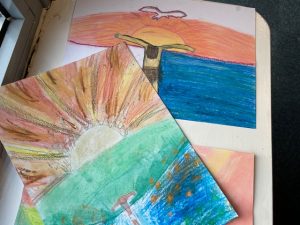 The Mini-Vinnies in Year 5 have also been fundraising with Mrs Manders. They hold a weekly tuck shop and have raised over £300 for good causes. This half term they are raising money for Francis Hannaway's missionary work in Africa and have already raised close to £200.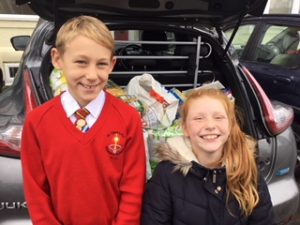 Spellings
This week's spellings focus on a selected group of homophones. They will be tested on Friday 14th March and can be found below with a hint to their meaning:
Spelling tip:  'ow' can make a long sound 'o' sound (slow) or a short 'o' sound (now).
fowl (bird)
flower (blossom)
dowse (drench)
how's (how is?)
allowed (permitted)
Spelling tip: 'ou' can make a sound like 'ow' (e.g. flour-flower).  There are many of these words.
foul (offensive)
flour (baking)
douse (drench)
house (to accommodate)
aloud (out loud)
Spelling tip:   'ou' can make a sound like short 'o'.
poring (studying closely)
pouring (flowing)
morning (before noon)
mourning (grieving)
You can access all of the spelling patterns that will be taught throughout Year 5 and 6 as well as the statutory spelling list at this link – Year 5/6 Spelling
Maths
This half term we are continuing to look at fractions before using this knowledge to inform our learning on working with decimal numbers. For further reading on fractions, have a look at the BBC Bitesize website.
Useful Links