The religious programme, Come and See' is the core RE scheme at St Clare's.  Links are made with the children's own experiences and the curriculum is adapted to make it real and meaningful to our children.
It is important to us that our children see themselves as part of a wider community. To ensure we have real and lasting experiences we have a planned programme of visits to places of worship  so that children can learn about the many similarities between major world religions.
Click on the links to have a closer look at our RE curriculum: Year Overview 2021-22 (2)
Please also see our policies section for our RE, Collective Worship and RSE policies.
Visits programme
In January, our Year 3 children spent the day at St. Mary's Cathedral, as they participated in the 'Big Sing Liturgy Thing'. This was a wonderful opportunity  for the children to join together with children from schools around the diocese, celebrating and reflecting on God's messages to us all.
Y5 and Y6 children are involved in Remembering Gallipoli service in Middlesbrough- a quiet time of reflection and remembrance.
This year, children in Year 4 have been learning about other faiths within Middlesbrough by joining together with children from Archibald and Abingdon schools. In November, they spent an afternoon at Abingdon School to learn about the Eid Muslim celebration and in December, children from Archibald and Abingdon schools spent an afternoon at St. Clare's learning about our Advent and Christmas celebrations. We are looking forward to sharing more events and celebrations in the coming months.
Y3 children continue to learn about our neighbouring schools with their ongoing friendship with Y3 children at Sacred Heart School. last year the children came to us for a picnic and play on the field after sharing a liturgy together. This year we will be vising them for Godly Play in the summer term.
Children in Year 5 enjoyed joining together with past pupils who are now in Year 8 at Trinity Catholic College. We joined together for a special Mass at St. Mary's Cathedral and then shared a faith walk along Seaton Carew beach. This not only gave us chance to reflect on our faith and hopes for our futures but was also a chance to catch up with friends and hear all about their exciting opportunities at Trinity.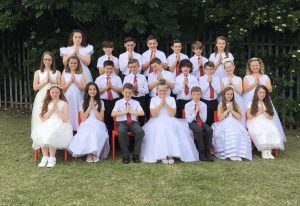 Creativity in RE
We have a strong commitment to ensuring children enjoy all their learning and our teachers are keen to make learning fun.
We have visits from More than Dance and Expedition Days who help us celebrate our faith in a creative way.
Every day during Advent, we came together as a school for a time of quiet and reflective prayer by each class leading an Advent Collective Worship for parents. Helping us to prepare for the great celebrations of Christmas through Christmas plays and carol services.
This year we have welcomed the Ten Ten theatre company to school. During their visit, the company presented a number of reflective plays for children, staff, parents and governors. Children in KS1 were helped to consider how happiness is not only found in the things we do for ourselves  but also in the things we do for others whilst children in Years 3 and 4 were helped to discover the beauty of self-giving and sacrifice. Children in Years 5 and 6 spent time thinking about what makes a healthy heart and how it is possible to build up relationships rather than destroy them, to discover friendship in unexpected places, and to believe that everyone is valuable in the eyes of God.
Great visit to the synagogue in Newcastle with our Y6 children.