Our Vision:
Our vision is based upon developing each member of our community so everyone reaches their full potential in the light of Christ's teachings and the values in the Gospels. Together our community walks in the light of Christ.
Enrich the children's understanding and living of their Catholic faith.
Provide an environment which fosters close partnership with parents/guardians and the Parish Community.
Promote the dignity and self esteem of everyone in the school.
Develop in each individual, respect, care and tolerance for one another.
Provide a curriculum in line with the distinctive nature of Catholic Education and one which meets National Curriculum  requirements.
Meet the spiritual, academic, physical, social, moral and cultural needs of all pupils to enable them to reach their full potential.
Mission Statement
Written by the children of St. Clare's
We follow in the footsteps of Christ.
All of St. Clare's family work together to
Let our light shine
Keep encouraging everyone in all that
Is good.
Night and day care for and
Tolerate each others differences, be kind,
Help each other to do our best and
Encourage each other to do our best and
Love one another.
Is what God asked us to do.
Giving us opportunities to
Help make a positive difference.
Teach us to work each day for you.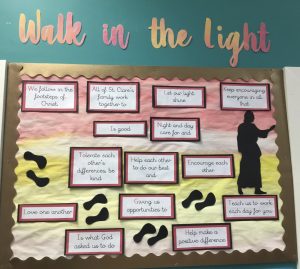 Our Values:
St Clare's Catholic Primary and its community leads by example by treating everyone as if they are Jesus. We follow in Jesus' footsteps by using the gifts that were given to us by God. We use the Fruits of the Holy Spirit to guide us in spreading the gospel message each day.
Love
Joy
Peace
Patience
Kindness
Goodness
Faithfulness
Gentleness
Self-control